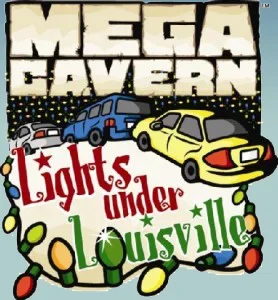 Deep beneath Louisville a light is shining ...er, make that 2,000,000 lights: it's Lights Under Louisville! Lights Under Louisville is the world's only fully underground, drive-through, Christmas light show and it's held in Louisville's MEGA Cavern. Louisville's MEGA Cavern is a man-made attraction; it started out in the 1930's as "Louisville Crushed Stone," a limestone quarry that yielded over 42 years worth of rock for the state's construction projects. During the 1960's, Louisville's MEGA Cavern was seen as a potential bomb shelter, able to withstand not just nuclear attacks but jet-liner crashes, tornadoes, and other end-of-world scenarios. Instead, in 1989 it was purchased by a group of investors who saw other potential uses and the massive, limestone quarry's 4,000,000 square feet of space was slowly repurposed into an environmentally-conscious, high security commercial storage facility and much, much more. Louisville's MEGA Cavern has ziplines, a rope course, a tour tram, event hosting, its own 5k run, and continues to carve out more space for offices and storag ... not to mention the seasonal Lights Under Louisville display! Lights Under Louisville allows you the opportunity to drive your own vehicle down into the MEGA Cavern for a 30 to 40 minute tour of underground passageways decorated for the holiday season. 850 Christmas characters lit with over two million lights will amaze and delight you and your loved ones. Come on and experience the only completely underground, Christmas light show on the planet!
Lights Under Louisville
November 15th – January 1st
For more details, please visit:
www.louisvillemegacavern.com
Louisville Lodging
No matter the reason or the season, Kentucky's Derby region is a great place to visit - and, while you're here, we have many
Kentucky bed and breakfasts
committed to making your stay the best yet. Support a local business and enjoy the unique, homey accommodations an innkeeper dedicated to your comfort can provide.